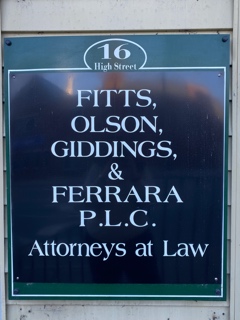 Fitts, Olson & Giddings is one of the oldest continuously-operating law firms in Windham County, and it maintains an old-fashioned dedication to personal service, attention to detail, discretion, and uncompromising integrity.
The firm engages in the general practice of law, including residential and commercial real estate and other transactional work; probate and estate administration; estate planning; elder law; trust law; taxation; municipal law; landlord-tenant law; corporate secretary work; and environmental law and permitting. The attorneys at the firm are admitted to practice law in Vermont and New Hampshire, as well as the Federal District Court in Vermont.
Fitts, Olson & Giddings supports many nonprofit organizations in the community, encouraging all its attorneys and employees to participate in community organizations and activities. The firm is a member of the Brattleboro Chamber of Commerce and the Brattleboro Downtown Alliance, and maintains a strong dedication to providing pro bono and volunteer legal services.
---
Fitts, Olson & Giddings, P.L.C. • 16 High Street • Brattleboro, Vermont 05301
Phone (802) 254-2345 • Fax (802) 254-6061